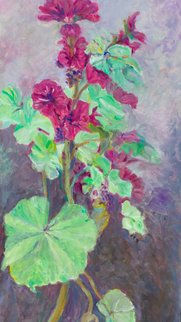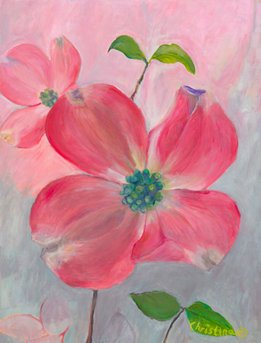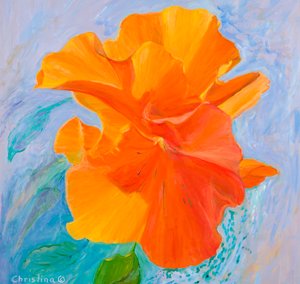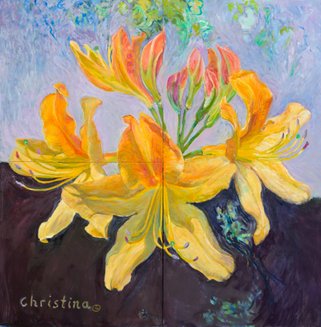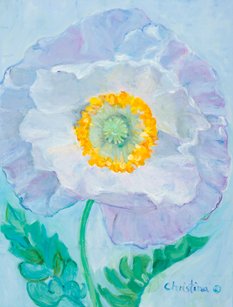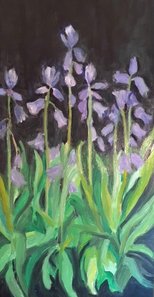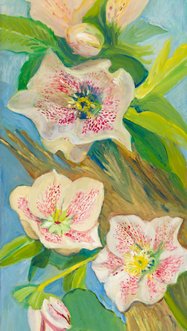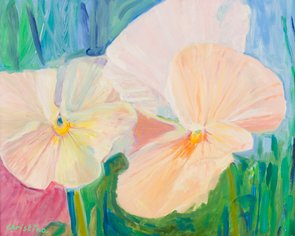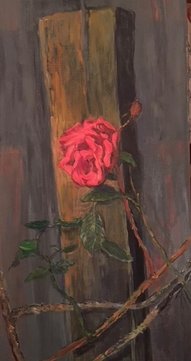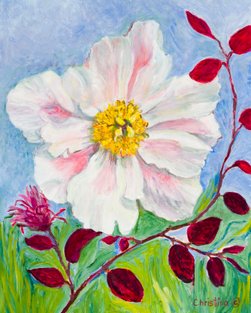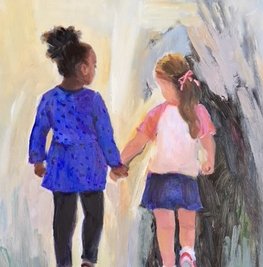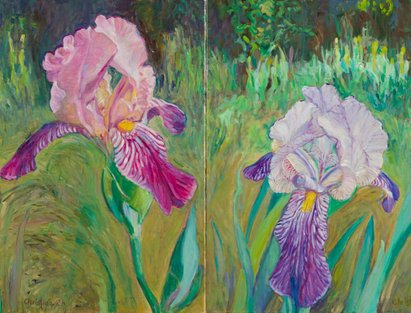 By the side of the road stood an old wooden post. Who would have imagined that a beautiful rose could grow there. But there it stood in imaculate glory shouting to the world, "There is HOPE! Not just hope for a moment...hope for the future...hope that the corona virus will subside...hope for more sunshine and fewer dark days...hope given that we can count on 100%...HOPE.
24"x12" Oil on Canvas.
Original Oil $225
Giclee $95
Is there any sweeter relationship than with a person you can pour your heart out to and she still loves you even more deeply? If the Lord is within that friendship, it is even deeper and more meaningful.
This painting represents that beautiful relationship touched by God's handiwork and the artist's brush.
The Original Oil was 14"x17" and was a gift to a friend.
The Giclee format is available: $110
Even the flowers pray with folded petals in a posture to glorify the Lord.
Both paintings are 16x20". They can be sold together or separately.
Separately each original oil on cradleboard $400.00
Giclees $225 each
When purchased together $670
Giclees $375 together
Commissioned Works
Original Art & Giclees
Art Classes
Upcoming Exhibition
The Artist
Pink Flowering Dogwood...the story
Peonies.., are long known for their healing properties. With their bright and cheerful presence, one has only to glance at them to be uplifted. In this painting, Christina has captured the hope and joy they bring to us all as we too emerge from the dirt and bloom. At this challenging time, what a wonderful reminder that we are "healed" in infinite ways.
Oil on Cradleboard 9"x12" $150
Giclee $75
Early Spring friends in the garden, the First to Bloom Peony and the Chinese Loropetalum (from the witch hazel family) are friends creating the beautiful contrast of the gentle soft-hearted Peony with the fragile appearing but sturdy Loropetalum. A reminder of friends with different gifts, these also are a great combination.
14"x11" Oil on Cradelboard.
Original Oil $275
Giclee $75
Wild and free these Hollyhocks sprung up by the side of a bike path in Northern Germany. Preserved in Christina's memory, their brilliant and confident blossoms now live on for the enjoyment of all.
This work is created with oil on a 1 1/2"cradle board
10" x 20"
$110
In Giclee format $55
With infinite attention to detail, God created this masterpiece in Christina's garden. She then re-created it in oil on cradleboard with the same infinite attention to detail.. The original Oil was given to support PATH, Partners Against Trafficing Humans The painting serves as a reminder of God's infinite care for the least of these...the girls and women caught up in human trafficing operations.
Giclee $125
How often we are reminded of Christ's sacrifice on the cross. Here rather than graphic detail of suffering and death, we see the beauty and glory of all He accomplished. There is a certain Joy and Presence in this painting. The Original Oil was 12"x12" and was a gift to a friend.
The Giclee format is available: $300
Native Azaleas also grow in Christina's Garden and were the inspiration for this softly brilliant oil painting..
This intricate oil painting is on three sections of
1 1/2" cradle board: 20"x20" together and 10"x10", 10"x10", and 20'x10" as separate panels.
$1400 FRAMED SOLD
GICLEES AVAILABLE
In Giclee format $300
The Pink Flowering Dogwood in Christina's Garden was the inspiration for this delicate and expressive work. The tree was given in memory of her late father. This painting is with oils on 1"cradle board, 24"x18"
$650
In Giclee format: $225
The Lenten Roses are also inspired by Lenten Roses in Christina's Garden. They are one of the first to bloom in the early spring. The Lenten Roses painting is with oils on 1 1/2"cradle board, 20"x10"
$110
In Giclee format: $85
Sometimes light lands on the blossom transforming it into the brilliance unexcelled. In this painting, Christina captures that special moment. Inspired by orange violets in her hanging baskets, this painting glows with happiness.
This oil painting is 24"x24" on 1 1/2"cradle board.
$875
In Giclee format: $300
Wind, rain, snow and heat have shaped this tree like a soul. Christina has captured this sensitive and joyful story in a 12"x12" oil painting on 1 1/2" cradle board.
$450
In Giclee format $150
Tree on Petit Jean Mountain
Tree on Petit Jean
Mountain
With strappy leaves and clusters of elegant lavender-blue flowers, Spanish bluebell blossoms dangle casually from spikes in the early spring garden, This elegant painting measures 12" X 6" oil on 1" cradle board. $110
in Giclee format $85
At Arroyo Secco near Taos, New Mexico, this eye catching scene is the inspiration for Christina's painting of Sunflowers against the Southwestern mountains.
This work is created with oil on a 12" by 9" wood panel. $275 SOLD
Giclee format available : $95
Sunflowers at Arroyo Secco
Sunflowers at Arroyo Secco
Delicate hints of lavendar, pink and blue frames the almost transparent white inner parts of the poppy. Yet emerging at the center is a brilliant yellow crown and dainty green center. How can it be both so delicate and brilliant at the same time? Only God could design such a masterpiece and only Christina could capture it.
This work is created with oil on a 14" by 11" wood panel
1 1/2 " deep. $225
In Giclee format: $95
This inspirational painting of Miss Red, known by her friends as Hardy Hibiscus is intense, lyrical, and brilliantly outgoing. Her beauty proclaims joyful, wholehearted love and unity.
This work is created with oil on a 20" by 10" on 1 1/2 "wood panel. $110
In Giclee format $85
* Shipping preparation of the art work and shipping services are available
* Giclee
A Giclee is a fine art digital print made on high quality paper or canvas by a very unique and high quality ink jet printer. The product may then stretched on a strong wood frame or framed for display. Giclees are made at the time of the order and can be anticipated to shipped within 3 weeks from the date of the order. A limited number of 50 Giclees are made of selected paintings. The Giclees are numbered and signed. Giclees range in price from $50 and up depending on size of the painting. Giclees are available from the paintings shown here.
Contact Christina about other desired Giclees. cphelps49@icloud.com or 1.501.580.6783.
"Flowers always make people better, happier, and more hopeful; they are sunshine, food, and medicine to the soul"

Luther Burbank
HOPE...The Faith of Children
Children know no boundaries erected by others. They gravitate toward people with love...walking toward the cross.
In Giclee format $95
COURAGE
The fragile iris exibits strength and courage. The rains come, the winds blow and this brave flower sustains in the breath of Spring.
Giclee format $75